Market review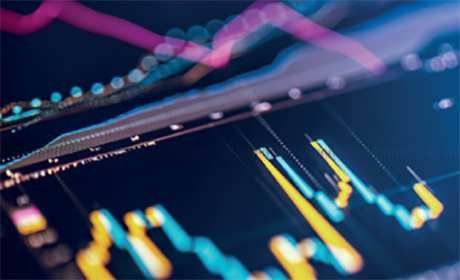 In July, evidence of a global slowdown in economic growth continued to mount. Indeed, the US economy delivered a second consecutive quarter of declining growth forcing the US Treasury to quickly rebut the notion of an economic downturn due to the ongoing strength of the US jobs market. As a result of the economic backdrop, investors began to forecast that the US Federal Reserve (Fed) would need to start cutting interest rates again by next year. This provided a huge boost for both equity and bond markets in July.
Despite the Fed delivering a second consecutive 0.75% interest-rate increase and the European Central Bank (ECB) making a 0.5% increase to European interest rates, in equity markets there was a marked change in investor sentiment.
In contrast to the first half of the year, investors moved away from 'value' stocks, companies whose share price is low relative to their value, and into 'growth' stocks, companies whose valuations are based upon the rate at which they're expected to grow their profits in the future.
In the US, equity markets shrugged off the interest-rate rise and enjoyed their best month for two years. The US was the top-performing regional market in July thanks to the outperformance of technology and consumer discretionary (companies that sell goods and services that are considered non-essential by consumers) stocks.
Both sectors are heavily represented in the 'growth' biased US equity market which accounts for the substantial outperformance of US equities in July, a month when the average fund in the Investment Association (IA) North America sector delivered a gain of 8.1%.
Meanwhile, smaller company stocks also outperformed their larger peers in July, especially in the UK, as investors found their risk appetite returning. Consequently, the average fund in the IA UK All Companies sector delivered 5.8% in July.
European equity markets also rallied strongly in July, despite the less than positive economic outlook for the energy-strapped region. During the month, the euro declined to be valued at one-to-one with the US dollar, in large part due to its reliance on Russian energy. Even so, the average fund in the IA Europe ex UK sector delivered 5.7%.
Elsewhere, emerging markets declined slightly. This was chiefly due to the mounting problems in China's huge property sector. During the month, the average fund in the IA Global Emerging Markets sector delivered a small loss of 0.3% while the average fund in the IA China/Greater China sector declined 8.1%.
Bond markets also enjoyed a vigorous bounce thanks to expectations that central banks would soon need to relent from their current course of steep interest-rate rises. As a result, the average fund in the IA UK Gilts sector returned 2.5% in July while corporate bonds (issued by companies) delivered greater returns, especially more risky bonds with higher yields.
(All performance figures in sterling terms and rounded to one decimal point.)